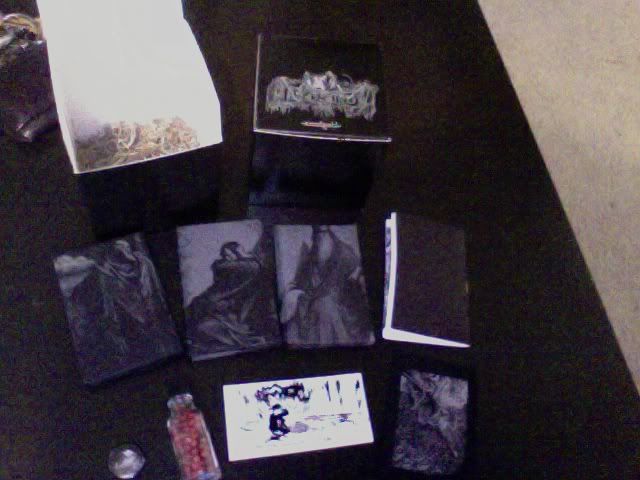 Thou are one of the heaviest band out there, no wonder they'll be releasing their next album on the dark lord's label aka Southern Lord. And being fully aware that this blog is called "Hex Vinyl", I'm making an exception for this killer tape boxset release, spanning pretty much their entire discography. Here's the info:

cassette 1 - tyrant full length + The Retaliation of the Immutable Force of Nature EP
cassette 2 - peasant full length
cassette 3 - To Carry a Stone EP,We Pass Like Night, From Land to Land EP / Leech split tape
Thrive & Decay EP / Black September split
Malfeasance / Retribution EP

The boxset comes with pro printed pro audio cassettes, silk screened on the divisions style cassette cases 100lb epic black linen paper, a 32 page booklet with all song titles, lyrics and images included, a sticker button and patch that are all exclusive to the boxset, a glass 'potion' bottle with mixed brazilian pepper seeds inside of it, all resting on a bed of moss in a jet black silk screened 4x4x4 box. strictly limited to 300 copies. This is a split release between Drugged Conscience and Peasant Magik.
Ordering is via paypal only, while confirming your order put "Thou Boxset Paid" in the title of the mail.
US orders: - $20ppd
canada - $23ppd
world - $29ppd
paypal to
burnxnaples@yahoo.com