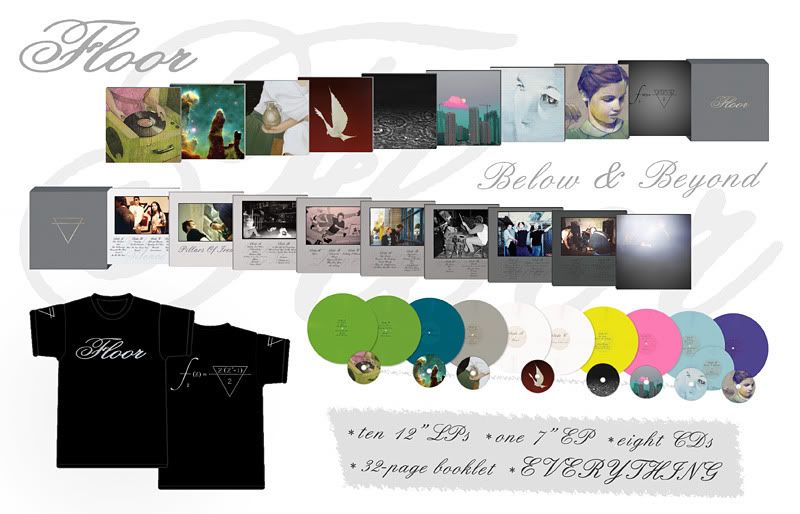 Available for pre-order NOW are the previously announced "Below & Beyond" Boxsets by the almighty Floor. This MASSIVE boxset contains 10 LPs, one 7", eight CDs, an exclusive t-shirt and a (roughly) 32-page booklet of writings, photos, lyrics, artwork (and more) are all to be housed in separate jackets contained within a custom cloth-bound box. Each record comes on a different color of vinyl to match to the corresponding artwork, and two etchings accompany recordings that didn't have appropriate flipsides. Booyaa.
Order this limited edition of 305 copies NOW from
Robotic Empire
. OK, it's $250, but this seems like one of the best purchases one can make this year - and those who don't will regret this for many many many years to come. Torche collectors take note: yes, you want this as well.
Here's more info from the label:
It's pretty rare when a band comes along that creates something truly unique. Scarcer still are multiple standout recordings from the same group. Rarest of all is one who amasses a large body of work that varies greatly, yet consistently remains impressive.

Southern Florida's FLOOR were around for roughly 10 years and recorded well over a dozen times during their on-and-off existence. Nearly 100 tracks are the result of a decade of persistence amid overall underappreciation, and only in the wake of their demise did underground audio followers finally take note. Their huge body of work yielded only a few officially released records, and most of what the band recorded just collected dust in the vaults. Finally, everything ever laid down to tape by this truly ahead-of-their time(s) outfit has been compiled into one massive release.

From the living rooms and basements of 1992 to the studios of 2001/2002, FLOOR had an incredible evolution from the GODFLESH and early-MELVINS-inspired sludge worship, to the unrivaled sugary doom/pop amalgamation which would eventually pave the way for TORCHE, HOUSE OF LIGHTNING and others. The changes in sound from recording-to-recording means the sheer variation of style (and audio fidelity) witnessed throughout this collection is astounding, and when dating these recordings against what would eventually follow, it becomes crystal clear that FLOOR were consistently operating on that fabled "next level".

It is with great honor and elation that we are able to present the Below & Beyond Box Set to you. After many years in the making, FLOOR is finally able to conclude their existence with this extensive collection.